The National Aeronautics and Space Administration (NASA) is an independent agency of the executive branch of the US federal government, i.e. run by the US president. The staff is sworn to secrecy and becomes members of a well protected sect that can do and lie what it likes. It will never admit that it and its European, Russian, Chinese, Japanese and Swedish, etc, counterparts falsify everything ... jointly since late 1950's. The main purpose of it is to invent, assisted by criminal scientists of all kind, pure lies about space programs, aeronautics and aerospace research, incl, this 1969 joke: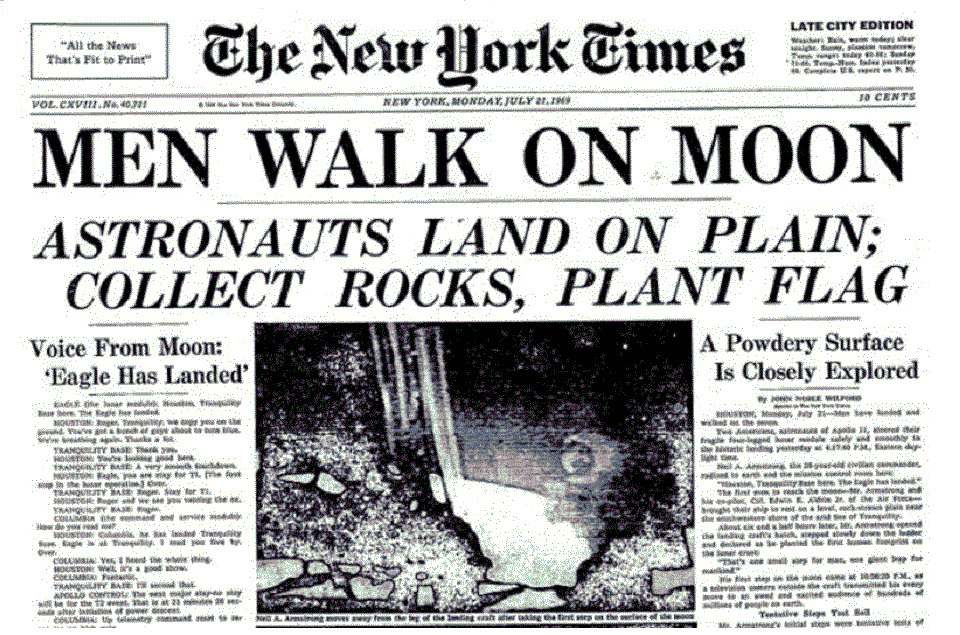 I am certain you, like me, were fooled 1969!
NYT was publishing fake fantasy news on the front page!
NYT had no reporter on the Moon verifying anything.
NYT just published what they were told to publish!
It had done it 1945 and 2001 too. An old trick! Imagine how easy it is to fake reality. Just invent something and publish it in a newspaper. It is pretty harmless, even it is 100% fantasy.
15 September 2017 the faked up spacecraft Cassini crashed on planet Saturn. It too was never in space. It was just 19 years, 11 months fakery.
And then this one:
NASA is 2017 developing a first-ever robotic mission to visit a large near-Earth asteroid, collect a multi-ton boulder from its surface, and use it in an enhanced gravity tractor asteroid deflection demonstration.

The spacecraft will then redirect the multi-ton boulder into a stable orbit around the moon, where astronauts will explore it and return with samples in the mid-2020s.
So asstronuts (!) will leave Earth and explore a multi-ton boulder orbiting the Moon in the mid-2020s and then return to Earth with samples of it. What fantasy! You wonder what NASA clowns are inventing it. Call them (if you can find them). Telephone numbers are provided below.
All technology for human space travel was developed, tested and paid for by 1969 but, if you ask 2018 for a copy of it, NASA will tell you all is lost! NASA cannot even tell you how to execute a trip to the Moon and how much rocket fuel you need. And if you check what 1969 info is available, you'll find it is all false!
Welcome to the most popular Heiwa Co web page, continuously up-dated, - about fake, human and other space trips!
People suffering from cognitive dissonance believe today 2018 that humans (like you and me!) have travelled in space!
Sorry!
All information about humans just orbiting Earth since April 1961 is false! Hundreds of persons say 2018 that they have done space trips. They are all lying! Doesn't cost much! They are paid for it by tax payers.
Space organizations of two dozen countries led by USA and Russia have secret understandings to promote fake human space travel and similar projects. Just look at the chiefs in charge and their 'experts'. They are clowns and jokers. I show it quite clearly at my web pages here.
By US presidential decree it is illegal to make reference to these secret agreements, so MSM must trumpet that human space travel is easy and worth any costs. The secrecy is the reason why the stupid hoax works since more than 50 years.
Project Mercury was the first, 100% fake human space program of the United States, running from 1958 through 1962 starting the manned space flight hoax.

An early highlight of the Space Race, its goal was to put an American into Earth orbit and return him safely, ideally before the Soviet Union. USA lost and Gagarin of USSR faked it first. John Glenn of USA faked it later. I describe them below!

Taken over from the U.S. Air Force by the newly created independent US space agency NASA, it conducted twenty unmanned developmental flights (some using animals), and six successful, manned flights/re-entries by astronuts.

They were all 100% false Hollywood type productions/shows, though. No Americans were in space.

Fake Mercury capsule that never was in space. It had a rocket at the bottom end for braking and landing but was just dropped from an airplane to simulate landings. It didn't have a heat shield for re-entry

Fake Gemini capsule that never was in space

Project Gemini was NASA's second, 100% fake human spaceflight program. Conducted between projects Mercury and Apollo, Gemini started in 1962 and concluded in 1966.

The Gemini capsules carried a two-asstronot crew doing space walks, blah, blah, blah, blah. they had a rocket engine at the bottom end for braking and landing at re-entry. All was a hoax from A to Z.

Ten Gemini crews never flew low Earth orbit (LEO) missions, walked in space and re-entered between 1965 and 1966 putting the United States in the lead during the Cold War Space Race against the Soviet Union!

The USSR had a good laugh about it ... but shut up.

The Apollo program was the third, 100% fake United States human spaceflight program carried out by the National Aeronautics and Space Administration (NASA), which accomplished landing the first humans on the Moon from 1969 to 1972.

They too were 100% false Hollywood type productions/shows. The first - Apollo 11 - is described below.

The Apollo Command/Service Module (CSM), right, was one of two spacecrafts, along with the Lunar Module (disconnected on photo right!), used for the United States Apollo program which landed astronuts on the Moon. None were ever in space, though. The Command Module had no rocket engine for braking and landing. It only had a heat shield!

Fake Apollo command/service spacecraft that never was in space. The command module capsule without rocket for braking was later dropped into the Pacific from an airplane to simulate a landing
Copies of the above mentioned spacecrafts can be seen at museums in the US and all over the world. None of them or the real ones have been in space! All was and is just propaganda!
"The most hazardous and dangerous and greatest adventure on which man has ever embarked on"
pronounced by JFK September 1962 never took place! JFK was lying through his nose! He was rich, powerful, and famous and had access to the power of the government. He used coercion to force media and people to play along. And as Americans love science fiction, they played along. While JFK was fucking around in his usual manner.
Donald Trump's March 2017 order to NASA to fake landing humans on Mars 2033 is part of the hoax 55 years later. And his December 2017 show is hilarious!
Humans have not even orbited Earth in space and then landed on Earth again. All such trips were hoaxes.
One reason is that NASA & Co cannot since 1969 explain how their false heroes piss and shit in a spacecraft or capsule! When in space or in orbit the astronuts and kosmoklowns are floating around inside. They are weightless. When they have to shit or piss, they act like rockets ... inside the spacecraft! The piss/shit is ejected one way and astronut or kosmoklown moves the other way. They have to hold on to something ... and the shit/piss must end up in some container or similar. How do you do it? In your space suits? When holding on to something? NASA & Co have no ideas how to do it, unless you believe this piss and this shit. Main Stream Media have never investigated the dirty matter. Since 50+ years! Here is how it was supposed to work:
| | | |
| --- | --- | --- |
| | | |
| Note all QUICK-DISCONNECT FITTINGS. How this Urine Transfer System worked in a no gravity environment 1969 was magic. If you asked NASA they told you to go and piss somewhere else | The Urine Transfer System (UTS) - a square bag - is stowed in one place and then quick-disconnected to a hose leading to a Filter and a Urine Dump Nozzle. What happens then is not clear since 1969. You must oxygen O2 purge the hose before use and hydrogen H2 bleed it after use. It is not easy to piss on a spacecraft! | The piss arrives in a URINE BAG to which a hose is connected. It then goes to the Urine Transfer System (UTS) and from there through a HIGH CAPACITY FILTER and a WASTE MANAGEMENT SYSTEM FILTER to the spacecraft cabin wall. Who cleans the filters is not known. I never filter my piss at home. I just piss |
So no Apollo spacecrafts with pissing asstronuts visited the Moon 1969/72. It was a hoax every time! fake, easy news. Why? An Apollo capsule cannot return to Earth at >11 000 m/s speed and land on Earth after nine minutes.
Above photo shows a small NASA Shuttle with x tons payload (or is it a 5 tons empty mock-up?) being sent into space to reach the ISS by a very big 2 040 tons NASA launch vehicle - two SRBs, three SSMEs, external fuel tank - full of fuel. The ~100 tons Shuttle is connected to the launch vehicle via one little bolt that is removed, when the Shuttle and launch vehicle separate.
Shouldn't the NASA launch vehicle be a little bigger than the little NASA Shuttle?
Anyway - never believe what you see on a photo type above. It is a FAKE!

So it was fake news! But maybe the astronuts pissed in a Black Hole?

No space Shuttles flow into orbits 1981-2011 to build the International Fake Station and later returned to ground. It was a hoax more than hundred times! A Shuttle cannot return to Earth at 8 200 m/s speed and land during 1 821 seconds!

What looked like capsules or e.g. Shuttles (left) taking off, disappearing behind clouds up in the sky and later landing in front of the US president and people ... were all stage props and mock-ups. To deceive the viewers. It was big business! Still is! Plenty people assisting.

Hollywood does it today all the time using computer generated images and Photoshop. NASA just buys and copies it.

No real spacecrafts of any kind can furthermore carry enough fuel for a trip anywhere in space and return safely to Earth. I explain below!

Prove me wrong and collect € 1 million!

My web pages/reports about human and other, interplanetary or even interstellar, space travel tricks, shows, jokes, piss, shit and projects, incl. the US National Aeronautics and Space Administration, NASA, billion dollars ones - Apollo, Skylab, Shuttle, International Space Station, Elon Musk (lone skum) $2.6 billion (it is a really hilarious and funny one), etc, etc, will take time to study.

Hope you will enjoy it. It is great fun. Don't get upset. JFK himself promised the Americans 12 September 1962 he could sail to the Moon:
... To be sure, we are behind, and will be behind for some time in manned flight. ... but ... this will be (un-)done in the decade of the sixties. ...

Well, space is there, and we're going to climb (?) it, and the moon and the planets are there, and new hopes for knowledge and peace are there. And, therefore, as we set sail we ask God's blessing on the most hazardous and dangerous and greatest adventure on which man has ever embarked. Thank you.
I have met many drunken sailors. JFK sounded like one. And I am a safety at sea expert! Comments are always welcome at anders.bjorkman@wanadoo.fr .
Since 20 January 2017 the USA has a new president, Donald Trump. He is a real clown and thinks that someone in the Fake Space Station is a cheat (oupps) and should be sent to planet Mars!
Donald is today in charge of, apart from the US a-bomb hoax, the US human space travel hoax! Donald must have agreed to Mr. Robert X. Lightfoot, Jr. as Acting (LOL) Administrator of the NASA the same day. Robert is just another actor, date of birth unknown, to continue the hoax! You should really wonder why the President of the United States of America, agreed to this other clown! Isn't one enough?
I assume that Donald wants to create his own reputation as explorer of the UNIVERSE and protector of planet Earth ... and just cancels the NASA nonsense, including that 30 June, 2017, the first International Asteroid Day! What nonsense was it!
Well, the United Nations have 2016 decided that the probability was 1 in 200 millions that planet Earth will collide on 30 June, 2235 with an asteroid. We have to be prepared. Plenty of past astronuts support the crazy idea. What will Donald the clown do about it? You'll find the answers below.
U.S. Vice President Mike Pence (left), another clown, paid 6 July 2017 a visit to NASA's Kennedy Space centre in Florida. Same crazy style! In keeping with the Trump administration's theme of reasserting U.S. leadership worldwide, he declared to a crowd of elected officials and NASA employees:

"We will return to the Moon and we will put American boots on the face of Mars."

12 new US asstronuts (out of 18 000 candidates) then joined 44 existing asstronuts to lie about that (after 24 months of training).

All essential NASA/XpaceS business is fakery from the beginnings! It starts to get boring 2018.

The NASA people faking it meet at regular intervals to celebrate - meet them! They are a stupid lot!


The fake news show about human space travel started a long time ago.
| | |
| --- | --- |
| NASA opened for business on October 1, 1958, when it accelerated the work (or what you can call the nonsense?) already started on human and robotic space flight. NASA's first high profile program was Project Mercury, an effort to learn, if humans could survive in space. It was quickly learnt it was not possible! | |

Only sending simple, short life satellites one-way into orbits around Earth taking photos, redirecting telephone calls and making GPS possible was and is possible. So NASA decided (1) to keep the rest secret in the interest of national defence and the conduct of foreign affairs and (2) to fake it.

Other companies like XPaceS,

agencies like ESA

and JAXA (Japan Aerospace Exploration Agency) also fake their activities to maintain the NASA hoaxes. I describe them below.

I am convinced that the president of the United States 1958 ordered the falsifications of manned and un-manned space trips and that the fakery should be kept secret forever by an Executive order to this effect backed up by laws to prevent any whistle blowers to tell the truth as described below. Call it a conspiracy, if you like. Imagine the billions of $$ stolen by NASA from US tax payers to keep the human space trips hoax alive almost 60 years. And how other companies and organizations play along.
I am also convinced that the United States and key allies and partners 2018 use disinformation and other propaganda tools to undermine the national security objectives of Sweden, France and other countries deemed vulnerable to foreign propaganda and disinformation campaigns.
A US federal employee with authority to take, direct others to take, recommend or approve any personnel action must not use that authority to take or fail to take, or threaten to take or fail to take, a personnel action against an employee or applicant because of disclosure of information by that individual that is reasonably believed to evidence violations of law, rule or regulation; gross mismanagement; gross waste of funds; an abuse of authority; or a substantial and specific danger to public health or safety, unless disclosure of such information is specifically prohibited by law and such information is specifically required by Executive Order to be kept secret in the interest of national defence or the conduct of foreign affairs.
There is 2018 a lone skum clown on Earth offering trips for humans to planet Mars in the near future. Main Stream Media, MSM, promote him as a hero. That clown is however just fooling you ... assisted by MSM. There is no way you can blast off from Earth in a rocket ... to go anywhere in space. But Elon does it live on TV ... and lands on Earth again ... after 10 minutes! But it is just a magic show. I explain it below!
Read on! It is quite funny and interesting. Nothing to get upset about. If you don't like the music, please do not attack me! I just play the music.
Human space travel was impossible in the past and is impossible in the future. It is just a funny invention of fake news by lying presidents, astrophysicists, cosmologists and well paid fake astronuts! Tell your friends about it. Laugh about it.