Aerospace Corporation

As an independent, non-profit corporation operating the only Federally Funded Research and Development Center, FFRDC, for the fake US space enterprise, the Aerospace Corporation performs objective technical analyses and assessments for a variety of government, civil, and commercial customers, we are told. US FFRDCs are public-private partnerships, which conduct research for the United States Government. They are administered in accordance with U.S. Code of Federal Regulations, Title 48, Part 35, Section 35.017 by universities and corporations.

The Aerospace Corporation employs 3,900 diverse and talented people, who are empowered to ensure the highest levels of fakery. Its laboratory facilities are staffed by some of the leading scientists and engineers in the world. It strives to cultivate a rich tapestry of top talent from many walks of life, and demonstrates honorable corporate citizenry by meeting its own needs without jeopardizing the needs of future generations, etc, etc. None of these employes can be reached by phone or e-mail to confirm my findings below. It seems the corporation is a dumping place of NASA staff, etc.

To confuse matters USA also uses MIT:

Massachusetts Institute of Technology (MIT) or its Department of Aeronautics and Astronautics got involved at once with US fake space plans! Already during World War II, the MIT Aeronautics Department expanded rapidly to meet the needs of the US military. 1959 it added Astronautics to its interests.

MIT had emerged from the war as the nation's largest nonindustrial defense contractor; almost all major research in MIT's Department of Aeronautics was performed for the military. President John F. Kennedy gave 1961 a landmark speech committing the country to landing astronauts on the Moon by the end of the decade. See below.

The MIT Astronautics Department is therefore particularly distinguished by its tremendous contributions to the NASA 100% fake Apollo and other space programs. The first fake voyage to the Moon and landing were made possible by fake guidance, navigation, and control systems developed by the MIT Astronautics Department Instrumentation Lab. Apollo 11 fake astronut Buzz Aldrin (MIT PhD '63) was the second fake man to set foot on the Moon and one of four MIT Astronautics Course 16 graduates to walk on the Moon. MIT has produced more academic asstronots/actors than any other school. Imagine that.

All 100% fake, though! They were only trained Hollywood actors!

Another funny space fakery institution is Johns Hopkins Applied Physics Laboratory that, i.a., manages the fake Parker Solar Probe mission for NASA - see below. APL designed and built the fake spacecraft and also operates it. But it is better forgotten. Like many other APL ventures.

USA/USSR (Russia) faked everything in space starting October 4 1957 with a Sputnik 1 satellite orbiting Earth and ending with a fake Soviet soft landing on the Moon January 31, 1966. USA only managed it May 30, 1966! In the mean time a fake US space craft flow by planet Venus August 27, 1962, while a fake Soviet one flow by planet Mars November 1, 1962, etc, etc. All Fake News then! No evidence of anything. Just American/Russian fantasies! They are still at it. It is not really a conspiracy. There is nothing secret. The collusions and infringements are all in the open. The 'space' people all believe in it. It is religious! And media are promoting it as Fake News! And you cannot mess around with US SBOEs! I just smile at the stupid and harmless nonsense!

France sent its first space craft into orbit November 26, 1965, while Japan, in fourth position, didn't manage such trip until February 11, 1970. I always wonder why France and Japan started to fake about space then. But don''t worry! 10 000's of scientists and engineers fake about space supported by ignorant or criminal politicians.

One example of fake space travel news March 2019 was that a rocket took off from Earth and that:

SpaceX's Crew Dragon spacecraft, built to carry U.S. astronauts to orbit starting later this year, caught up with the International (Fake) Space Station early Sunday 3 March 2019 and moved in for a picture-perfect docking, a major milestone in NASA's drive to resume launching U.S. astronauts from U.S. soil for the first time since the fake Shuttle was retired in 2011.
SpaceX is a funny company. It belongs 100% to Elon Musk who is an actor. The company is 100% owned by Musk and worth US$ 7 billion!! It is good at producing good, fake videos of rockets taking off and landing again even landing on Mars.

And 8 March 2019 his Crew Dragon spacecraft un-docked from the I(F)SS and made an impossible reentry and dropped into the Pacific:

"This is an amazing achievement in American history," NASA administrator Jim Bridenstine said from the space agency's Johnson Space Center in Houston. "These are all capabilities that are leading to a day where we are launching American astronauts on American rockets from American soil."

Jim (right) is really stupid. I have told him that. He doesn't understand much! It was standard US/SpaceX Fake space News since 1957. No Crew Dragon spacecraft went anywhere March, 2019. Jim was just fooled. Jim had to leave NASA a little later.

James Bridenstine - "the way we produce food and energy and conduct banking depends on space"

Nineteen years ago - year 2000 - space tourism was hot!

If (sic) some $12 billion of funding became available, commercial passenger space travel services to and from Earth orbit could begin in 2010, we were told.
Ms. Naoko Yamazaki (years ago)

At a growth rate of some 100,000 passengers/year/year the business could reach 700.000 passengers/ year by 2017, at a price of only $25.000 /passenger, some clowns thought. By 2030 time space tourism activities could have grown to a scale of $100 billion/year, creating several million jobs experts predicted 2000. Fools believed it.

Of course today 2021 there is 0 space tourism, even if Ms. Naoko Yamazaki, 48, (left) just started the Space Port Japan Association supported by Airbus Japan K.K., ANA Holdings Inc., Marubeni Corp., Mitsui Fudosan CO. and SKY Perfect JSAT Corp., to put people in space. Who is Ms. Yamazaki? Just a stupid, fake Japanese prostonut saying/lying she visited space 2010. She was never there! As fake as Hayabusa2! All Japan space ventures are 100% fake! Japan started this type of fakery with the 1945 fake atomic bombs. It is easy! In Japan you just do what you are told!

Of course space and Universe are easy to see in the sky but that's all. A dark empty place full of stars or bright objects and cold planets or heavenly bodies of all sorts lit by the Sun. No robotic space crafts can explore it. Everything sent away from Earth never arrives anywhere. It can only orbit Earth or drop back on the ground.

Religion? Yes, the 'space' people formed their own societies about it. You must just agree with them and you are welcome to join their space churches and Shinto space temples and similar meeting places.

My opinion. Easy! Space exploration is 99% fake. Like most asstronomy.
Listen:
Photo of Black Hole in space April 2019 - no peer review, no independent checking, just propaganda, no questions replied to

People and asstronomers on Earth say they have 2017/19 found and photographed an invisible Black Hole in the Universe only 50 million light-years away. The Universe is at least 13 billion light-years old, 11 billion of which is right now being charted by DESI! All lies. Just fantasies. Plenty people just get together and publish space lies of all sorts. If you ask a question - no replies! You can quote me! The photo? It was created by a young, very stupid woman trying to make sense out of data on her computer. The fake data was just bullshit made by some other people.

Already in the 1950's it was known by all experts that a return trip to the Moon was impossible.

However, in the 1960's it was all forgotten due to clever communist indoctrination east/left and US propaganda west/right, so the latest, future Moon visits (mostly right) nonsense 2019-2021 - all fake - are listed below:

23 February 2019 the private Israeli SpaceIL spacecraft Beresheet took off using a Falcon 9 launcher into Earth orbit. During several orbits around Earth, the spacecraft slowly performed orbit raising (?). The orbit raising would take about a month before reaching the Moon's area of influence. Imagine that! A month to go to the Moon. Once there, the spacecraft will perform manoeuvers to be captured in a lunar orbit, and orbit around the Moon between two weeks and a month. In the right orbit around the landing site, it will decelerate until soft-landing on the lunar surface on 11 April 2019. Of course USSR did it already January 31, 1966. The Israeli spacecraft crashed in the last moment, if you believe the nonsense! Why it was going to the Moon at all, is not clear either.

14 July 2019 the Indian ISRO moon-probe, Chandrayaan-2, that was earlier slated to be launched 31 January but due to some technical details had to be withheld, was launched into LEO. The Chandrayaan-2 includes an orbiter, a lander and a probe, all developed by India and was launched by a GSLV-Mark III rocket. There are no humans aboard! On 22 July the spacecraft left LEO to arrive at the Moon 20 August, which it started to orbit at 1 680 m/s speed. 2 September the lander named Vikram was detached! It was supposed to land 7 September at zero speed, but someting went wrong at 2 100 m altitude, when speed was down to only 2 m/s and contact was lost, so the mission was only 95% successful, we are told. The orbiter has however fuel to work until 2026 and will try to locate Vikram. Fake Nasa veteran Jerry Linenger, who says he has flown on space shuttles and spent five months on the 100% fake Russian space station Mir in 1997, said,
"With Chandrayaan-2's orbiter doing three-dimensional mapping of the Moon and looking beneath the lunar surface, we are expecting a lot of information. Anyone looking to set up a base on Moon will be benefited by such information."
Personally I consider the Indian spacecraft 100% Fake News! But Indians will fly in space December 2021, we are also told!
May 2019 the world's richest man said he was going to the Moon soon. It will be paid for as follows: Every year shares of the Amazon company worth a billion USD are sold and invested in his Blue Origin rocket company. But the whole thing is bullshit!
July-September 2019 the private German PTScientists group plans to perform the world's first private Moon landing with a mission they now simply call "Mission to the Moon". A landing module called Autonomous Landing and Navigation Module (ALINA) will launch on a Falcon 9 to the surface of the Moon. The spacecraft will share the Falcon 9 launch with an unspecified satellite that will be placed on a geostationary orbit (GEO). ALINA lander will deploy two lunar rovers on the Moon. The group sounds 100% criminal subsidised by ESA!
October-December 2019 the private US Moon Express company will carry out the Lunar Scout expedition, that will be the second commercial voyage to the Moon. This expedition will demonstrate the cost effectiveness of entrepreneurial approaches to space exploration, carrying a diverse manifest of payloads including the International Lunar Observatory, "MoonLight" by the INFN National Laboratories of Frascati and the University of Maryland, and a Celestis memorial flight, whatever that can be. By 2020 the Lunar Scout will return to Earth with plenty Moon regolith dust. This group also sounds 100% criminal!
2020 China's CNSA Chang'e #5 and 6 spacecrafts will land on the Moon, NASA/ESA, Cubesat EM-1 spacecraft shall test the capsule Orion orbiting the Moon and private US Astrobotic Technology's spacecraft Peregrine shall land rovers on the Moon!
2021 Japan JAXA's spacecraft Slim shall locate a suitable rocket launch site on the Moon. Etc, etc!
There is no end of what various criminal space companies on Earth can invent about the Moon.
So no surprise SpaceX aims to launch its first cargo mission to planet Mars in 2022 and send people toward the Red Planet just two years after that, i.e. 2024. Those were two of the highlights of the company's current Mars-colonization plan, which SpaceX founder and CEO Elon Musk unveiled early Friday Sept. 29, 2017 at the 68th International Astronautical Congress (IAC) in Adelaide, Australia. However, in a major shakeup at Elon Musk's aerospace company, SpaceX announced Friday 11 January 2019 that it will cut 10 percent of its employees. I cannot understand that anyone takes this Musk clown and his SpaceX company seerious. SpaceX is 100% fantasy.
Plenty people of course believe and media publish anything anyway about Moon and Mars trips and there we are. I just laugh at them.
When I was a child in the 1950's, I was told about fantastic Soviet sputniks orbiting Earth and finally landing again and, of course, I believed the communist propaganda. What else could I do? But 60+ years later I know better. Only one way satellite trips orbiting Earth are possible. Everything else is impossible, even if Wikipedia suggests that humans are orbiting Earth in LEO right now.
No spacecrafts have since travelled to planets anywhere. Spacecrafts can only orbit planet Earth and can never return and land again. Spacecrafts visiting other planets or moons are always Fake News invented by the absurd Jet Propulsion Laboratory (JPL) clowns in California (the latest nonsense is their Space Cube Sats) and similar outfits all over USA assisting the United States NASA to conquer the Universe. But also Europe, Japan, Russia, China and many other countries participate in the hoax.
China's latest 'space' hoax was 7 December 2018! Then spacecraft Chang'e 4 took off to be catapulted to the Moon, where, after orbiting the Moon, it landed January 2019 at the Moon's south pole, which is out of sight from Earth. Chinese Fake News!
One of the fantasy SpaceX latest 'space' hoaxes was 5 December 2018. SpaceX then launched its sixteenth Commercial Resupply Services mission (CRS-16) to the International Fake Station. Liftoff occurred at 1:16 p.m. EST, or 18:16 UTC, from Space Launch Complex 40 (SLC-40) at Cape Canaveral Air Force Station, Florida. Spacecraft Dragon was filled with more than 5.600 pounds of supplies and payloads, including critical materials to directly support more than 250 science and research investigations that will occur onboard the orbiting laboratory, we were told. Imagine that!! Dragon separated from Falcon 9's second stage about 10 minutes after liftoff and attached to the space station on 8 December. Of course it was all fake, as usual! You cannot start orbit Earth, and then change this orbit Earth and attach to another object orbiting Earth in another orbit. Same applies going to planet Mars.
The ExoMars Trace Gas Orbiter, TGO, is an ESA/Roscosmos space hoax! The launch from Earth occurred at 09:31 UTC on 14 March 2016. TGO then travelled to planet Mars! A lander separated from the TGO orbiter on 16 October 2016, three days before it arrived on Mars. Then it started to orbit Mars. The fake trip thus took about 219 days and looked like this. The standards banana shaped nonsense at variable speeds. One objective of the TGO was to find methane on Mars that previous spacecrafts had found. TGO has found nothing, we are told April 2019. Of course the the whole thing is a hoax.
The NASA InSight landing on planet Mars 26 November 2018 was another 'space' hoax! The shortest trajectory Earth/Mars is of course straight away from the Sun and not a banana shaped trajectory at variable speeds and directions of the fake trip lasting only 205 days shown below: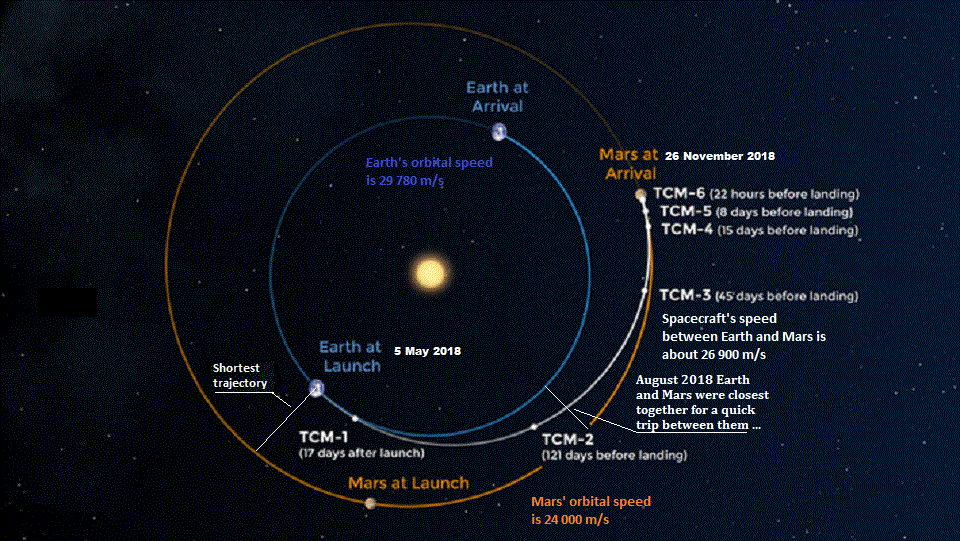 Source
It is standard space nonsense. To fly from Earth to Mars you must follow a banana shaped trajectory orbiting nothing (or the Sun?) during 205 days changing speeds and directions all the time in space. To go straight from Earth (and the Sun), when Earth is ahead of Mars and arrive at Mars after a month - like going to the Moon in three days - is not possible as agreed by some space clowns long ago. But why go to Mars at all? It is just a desert without atmosphere, water and life. Imagine being locked up in a spaceship during 205 days going to visit a desert ... doing what?
Most NASA and Jet Propulsion Laboratory scientists and staff are therefore just cheap, stupid Hollywood actors all dressed alike with violet shirts, black trousers hiding behind computer screens and talking via microphones and head sets and dancing around, when their fake spacecraft has landed. A copy/paste of the foolish Apollo 11 show 1969.
I describe the various shows below. The InSight braking from 5 500 m/s to 0 speeds - brake distance 770 000 m - in seven (!) minutes and 0 speed landing on Mars was an impossible joke. Only complete idiots believe in it but media worldwide reported it as an accomplished fact. Fake News as usual!
This is my opinion, based on personal research and common sense since 1994.
It is also one of my most popular webpage/site, with, say 100's visitors/day since many years. Media presstitutes hate it and will never mention it or link to it
Here I show that no human beings have ever been in space and will never be in space. Everything about it is propaganda lies since late 1950's. All is just stupid, simple hoaxes to steal money from the tax payers and create fake jobs etc. It started in the 1950's when some pseudo scientists said human space travel was easy and politicians believed them. An industry was created.
All persons, male and female, associated with these human space travel hoaxes since late 1950's are in my opinion criminals guilty of complicity in fraud. People suggesting they trained for years to fly in space and did it are simply paid actors. Imagine it has gone on for >60 years.
Fraud is deliberate deception to secure unfair or unlawful gain and complicity is the participation in a completed criminal act of an accomplice, a partner in the crime, who aids or encourages other perpetrators of that crime, and who shares with them an intent to act to complete the crime.

To confuse people with fake human space trips is a crime.

One such criminal is a Swede Christer Fuglesang, cfug@kth.se, tel. +468 790 64 65, right. He says he has orbited Earth several times in a Shuttle and that he is a space travel professor at the Royal Institute of Technology, Stockholm, Sweden, teaching scientifically how to fly yourself in space. Try to contact him. Human space travel is just stupid nonsense. But Main Stream Media cannot say so. They just make money out of publishing Fake News.

There are other Swedes around producing Fake News by scientific fraud. I mention some here. They don't like me. They like cheating on behalf of criminals of all sorts. They assist killing people not agreeing with them. Sad!

Another criminal is Alain Charmeau. Who is he? He works for Arianespace! He is left below! Doesn't he look stupid? He was fired from his post recently.

Christer Fuglesang dressed up as an asstronut ready to walk on the Moon or to pilot a Shuttle
Alain Charmeau above thinks October 2018 that humans can soon fly to the Moon and planet Mars - using his Ariane 6 rocket right.

They are inventions of stupid people and it seems I pay for it

Shouldn't the four boosters of the Ariane 6 rocket have stopped ejecting smoke after being ejected?

20 October 2018 the latest space hoax ESA Bepi Colombo mission started from Earth to orbit planet Mercury in 2026 assisted by Arianespace! The link is from 14 September 2018. ESA doesn't bother to update it for the simple reason nothing happens until 13 April 2020! Listen:

The ESA/JAXA Mercury Composite Spacecraft (MCS) (mass 4.241 kg includes a 1.150 kg Mercury Planetary Orbiter (MPO), a 275 kg Mercury Magnetospheric Orbiter (MMO), a Mercury Transfer Module (MTM) and an MMO Sunshield and Interface Structure (MOSIF), we are told. This complete garbage thus departed Earth 20 October 2018 on top of an Arianespace Ariane 5 rocket with a hyperbolic excess velocity of 3.475 km/s to elliptically orbit Earth with the Sun inside the orbit. Imagine that!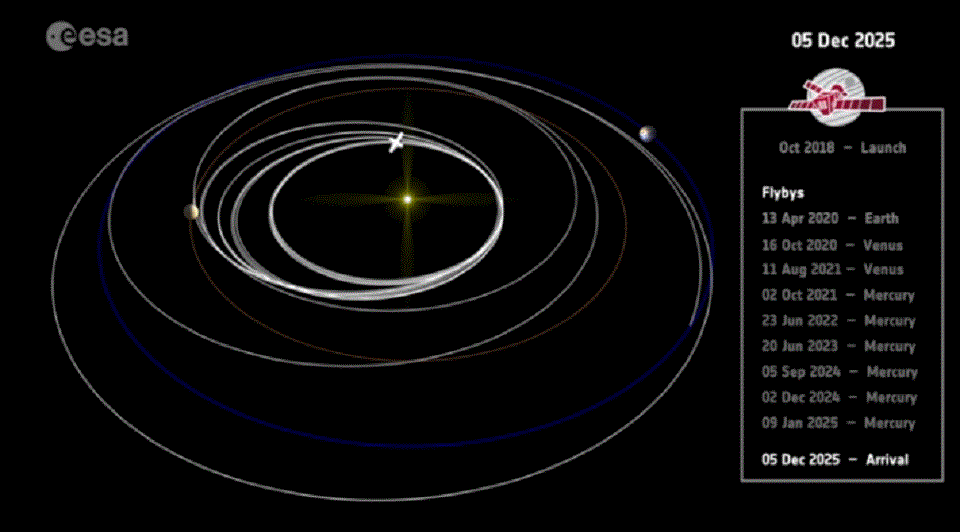 Source
The MCS therefore, after a turn around the Sun inside/outside the Earth orbit, returns to Earth 13 April 2020 for a first fake inwards gravity assisted kick to quickly arrive at planet Venus 16 October 2020 after half a turn around the Sun for a second fake gravity assisted kick to arrive at Venus again after a turn around the Sun, 11 August 2021, for a third fake inwards gravity assisted kick, now to planet Mercury, where it quickly arrives 2 October 2021 for a fourth fake gravity assisted kick back to Mercury again after two turns around the Sun, where it arrives 23 June 2022 for a fifth fake gravity assisted kick, bla, bla! There are then another four fake gravity assisted kicks at Mercury 20 June 2023, 5 September 2024, 2 December 2024 and 9 January 2025, so that the spacecraft can arrive at Mercury 5 December 2025 at low speed to put the MPO in orbit around Mercury 14 March 2026, bla, bla, etc. You wonder what clowns invent this nonsense! The whole trip is also shown here. The nominal mission then ends on 1 May 2027 and the extended mission ends on 1 May 2028. As gravity assisted kicks are impossible the whole ESA/JAXA mission, incl. the Arianespace launch, is another ridiculous hoax. Media presstitutes have plenty opportunities 2018-2028 to question the ESA/JAXA experts about the long trip and changes of speed and directions by nine fake gravity assisted kicks ... but do not expect any answers. Fake space trips nowadays are only possible by fake gravity assisted kicks and the Japanese have finally joined the show.
11 October 2018 another space hoax took place! Two persons, i.e. actors, were flying in a spacecraft just being launched, rocket of which got damaged! They managed to get out of it and land on Earth safe and sound using a re-entry module. It was three days top headline Fake News worldwide. Media love to publish any such nonsense they are given. All lies of course.
18 September 2018 SpaceX and Lone Skum were also active in the manned space travel hoax:
Japanese billionaire Yusaku Maezawa put down a significant deposit with SpaceX to become the first ever private tourist to fly around the moon on the company's Big Falcon Rocket (BFR)

Maezawa wants to take six to eight artists from around the world on the nearly week-long trip.

The mission is expected to launch in 2023.
Mr. Maezawa is invited to collect €1,000,000:- from me by explaining how he can fly in space! Just paying a deposit is not enough. Lone Skum, also known as Elon Musk, is a complete fantasy figure created by particular interests to steal money from US tax payers.
7 October 2018 at 7:21 p.m. PDT, SpaceX successfully launched the SAOCOM 1A satellite from Space Launch Complex 4E (SLC-4E) at Vandenberg Air Force Base in California. The satellite was deployed in LEO about 12 minutes after liftoff, we were told.
Following stage separation, Falcon 9's first stage returned (!) to land at SpaceX's Landing Zone 4 (LZ-4) at Vandenberg Air Force Base. This was SpaceX's first land landing on the West Coast. The complete nonsense can be seen here. I am glad to note that US media mainly ignored this shit. Imagine a private rocket launching a satellite into LEO and then landing again after 12 minutes, where it started. Only Lone Skum could have invented it.
12 August 2018 another, recent, unmanned spacecraft hoax took place. The NASA Parker Solar Probe departed Earth 3:31 a.m. hrs EDT. The ESA Solar Orbiter scheduled to be launched 2020 is another hoax. Both spacecrafts will orbit the Sun, we are told.
The Parker Solar Probe with mass 635 kg was launched by a Delta IV-Heavy with Upper Stage rocket one dark August night! It can carry 14.210 kg into Geosynchronous Transfer Orbit, GTO. As long as the Upper Stage rocket + the Parker Solar Probe has mass <14 tons, it will reach GTO at about 36 000 km altitude in about 44 minutes. In GTO the Upper (third) Stage rocket was then fired for 90 seconds at the right location/direction catapulting the Parker Solar Probe out of GTO (!) at a final speed of at least 17.658 m/s into a modified orbit around Earth and (!) the Sun. The start speed in GTO was only around 2.600 m/s, so the 635 kg space craft was given a great, solid kick to reach the Sun. A basic question is: can it be done? I doubt it! Over seven years, the Parker Solar Probe spacecraft will complete 24 orbits of 88 days around the Sun and will encounter planet Venus seven times—each time performing a fake flyby/gravity assist to slow (!) the Parker Solar Probe down, so it can pass closer to the Sun with a minimum approach 2024, we are told. Imagine that! Planet Venus is orbiting the Sun at almost constant 35.000 m/s speed in 225 days or 10 times until 2024, so it is quite difficult for a space craft to encounter/collide with fast moving Venus spot on seven times (out of 24) at the right time/location/direction in space, so that Venus can slow down the Parker Solar Probe, which has very variable speeds in its elliptical orbits. No rocket scientist can explain how it is done. Media will not trumpet that it is a hoax!
The Delta-IV Heavy launch vehicle boosters were running for 5 minutes 36 seconds after lift-off, but two of them were dropped off already after 3 minutes 58 seconds flight. The first stage main engine was then running for 5 minutes 42 seconds and the second stage main engine for 14 minutes 10 seconds to arrive at GTO. The third Upper stage rocket engine was then running for 1 minute 29 seconds to kick the spacecraft to the Sun. Final speed and direction of the Parker Solar Probe after 44 minutes space flight are not known.

NASA cannot even explain how any spacecraft can leave one orbit (around Earth) and enter another orbit (around Sun). Or ...

"At 6:07 a.m. EDT on Aug. 20, 2018, NASA's Parker Solar Probe successfully completed its first trajectory correction manoeuver (known as TCM-1), achieving a near-perfect firing of its propulsion system and putting the spacecraft on course to "touch" the Sun. ...

The team completely nailed this manoeuvre," said APL's Andy Driesman, Parker Solar Probe project manager. "Execution of the burn was exceptional, measuring at less than 0.2 percent magnitude error-which translates to a 0.3 standard deviation, or sigma, from optimal. We had defined success for TCM-1 as up to 3 sigma, which really illustrates how phenomenally this was executed." bla, bla, bla!

As of 12:00 p.m. EDT on August 20, Parker Solar Probe was 5.5 million miles from Earth, travelling at 39,500 miles per hour (17,658 m/s)."

Source

So after leaving GTO the NASA/APL Parker Solar Probe never entered any orbit around Earth and the Sun to return at Earth after a year but went into a high speed trajectory of some sort - 17,658 m/s speed towards planet Venus after about a week in space and later at much higher speed close to the Sun. With that speed during about 192 hrs of flight to Venus the space craft should have been 7.5 million miles from Earth ... but it was only 5.5 million miles ... due to a slow start.

Here you see the Parker Solar Probe lifting off a dark night, in the wrong direction. The Sun is of course at the other side of the rotating Earth. The spacecraft shall thus get out of GTO and turn versus Venus for seven future flyby/gravity assists during 24 orbits of the Sun. It looks like the spacecraft will ditch in the ocean after 30 minutes. Many stupid people believe that seeing a rocket launch proves the rocket will reach the target.

As soon as you switch off the spacecraft rocket engines, Earth's gravity will pull the spacecraft back and reduce its speed. But if the spacecraft comes close to the Sun it will really speed up and crash and burn up on the Sun.

NASA's Parker Solar Probe's 24 different orbits around the Sun - and it encounters planet Venus seven times! Impossible!

Source

Planet Mercury is orbiting the Sun at 48.000 m/s speed, so when Parker Solar Probe is close to the Sun inside Mercury, its speed may be >100.000 m/s not to melt. What bullshit! More about this hoax and its operator, APL, here.

ESA Solar Orbiter will have a highly elliptic orbit (around Earth?) - between 0.9AU at aphelion and 0.28AU at perihelion and will reach its operational (?) orbit around the Sun three-and-a-half years after launch by using fake flybys/gravity assists at Earth and Venus, we are told! ESA also cannot explain how any spacecraft can leave one orbit (around Earth) and enter another orbit (around anything else, e.g. the Sun).

As flybys/gravity assists are pseudoscience, you can be assured that both spacecrafts are typical NASA and ESA hoaxes based on fake information and Fake News. There is no way you can leave one orbit around Earth and enter 24 different, variable speeds, elliptical orbits around the Sun encountering Venus seven times

My findings about human space travel also include a US Space Operations Force to support US Combatant Commands with space war fighters (!) that will save planet Earth 2023 from an asteroid collision. I am certain you haven't heard about it, so you have to read about it here. US president Trump and VP Mike Pence recently directed the establishment of a human Space Force to better protect U.S. vital interests in space.

See Final Report on Organizational and Management Structure for the National Security Space Components of the US Department of Defence, August 9, 2018, for details, e.g:
First, US DoD will establish a Space Development Agency to develop and field space capabilities at speed and scale. The Air Force has already begun to transform its Space and Missile Center (SMC). The Department will accelerate and extend this transformation to all services by creating a joint Space Development Agency.

Second, the Department will develop the Space Operations Force to support the Combatant Commands. These joint space war fighters will provide space expertise to combatant commanders and the Space Development Agency, and surge expertise in time of crisis to ensure that space capabilities are leveraged effectively in conflict.

Third, the Department will create the governance, services, and support functions of the Space Force. Many of these will require changes to U.S. law. The Department will build a legislative proposal for Congressional consideration as a part of the Fiscal Year 2020 budget cycle.

Fourth, the Department will create a U.S. Space Command, led by a four star general or flag officer, to lead the use of space assets in warfighting and accelerate integration of space capabilities into other war fighting forces. U.S. Space Command will be responsible for directing the employment of the Space Force.
So when US spacecraft OSIRIS-REx 2020 or 2021 discovers an asteroid on its way to destroy planet Earth 2023 USA is ready to send space war fighters to it and blow it up by an atomic bomb 2023. But let's not go too fast forward of the US space fantasies of space wars, space terrorism, space tourism and space mining industries, bla, bla.
USA - under the magnificent President D. Trump - will thus in the future be protected by six war fighting services: (1) Army, (2), Navy, (3) Air Force, (4) Marine Corps, (5) Coast Guard (part of DHS) and (6) Space Force! One problem remains - how to get Space Force war fighters back to Earth after deployment in space?
The info below I have told my own children. And I always tell the truth to my children - three daughters. They are surprised when I say humans cannot fly in space! They have seen US presidents chatting about it with asstronuts on TV, I am told! I tell them it was just Hollywood science fiction! They get confused. Like me 50 years ago.
Human, natural intelligence is very easy to manipulate by fake information. Fake information always starts as fake news published by media at the request of authorities. At my website here I present several examples of fake information:
August 1945 US media published information to the effect that two small cities in Japan had been destroyed by atomic bombs killing 100.000's of Japanese. The result was that Japan could surrender and that WW2 could be ended without any loss of face. But no atomic bombs exploded anywhere. There are no records of Japanese having been killed by nuclear radiation and weapons. USA faked it! Early Fake News!
April 1961 USSR media published information to the effect that a Soviet cosmonaut had orbited Earth in outer space and that the Soviet Union had won the space race against the USA. But no Russian cosmonuts or American astronuts were ever in space. Russia faked it! Fake News!
September 1994 Swedish media published information to the effect that an Estonian ferry, M/S Estonia, had sunk in the Baltic killing ~1.000 persons due to the bow visor having fallen off (design fault). But no bow visor fell off anywhere. It was removed from the wreck at the bottom of the sea below water! Sweden faked it! That really, finally, woke me up!
September 2001 US media published information to the effect that some Arabs had crashed airplanes into the World Trade Centre at New York City destroying three skyscrapers and killing >3.000 persons. The result was that USA could start and lose wars against terror killing people anywhere that still go on 2019. And USA hasn't won any wars against terror since 2001. And 911 was a US inside job! No Arabs involved.
Artificial intelligence (AI) is a new discipline developed to ensure that human fake information can be established as historic facts without further discussions and taught as such at schools and universities. My website is an attempt to show that Artificial intelligence (AI) is nonsense.
The more I read about US and European space travel, it seems NASA and ESA are trolling people to see just how much they can get away with. There are major anomalies and lots of red flags everywhere. All persons associated with the NASA/ESA space travel hoax are criminals guilty of complicity in fraud. Fraud is deliberate deception to secure unfair or unlawful gain and complicity is the participation in a completed criminal act of an accomplice, a partner in the crime who aids or encourages other perpetrators of that crime, and who shared with them intent to act to complete the crime. To fool people with fake space trips is a crime.
The purpose of this article is also to improve your own thinking!
Thinking is the only way to sort facts from fiction, truth from lies.
Thinking is the only way to ensure an effective and happy life because it is what leads to considered action, and therefore the realizing of goals, and therefore a sense of being in control of one's life and experiencing self-esteem.
Reasons for no human beings in space are simple: human beings cannot

(A) survive radiation in space,

(B) leave Earth orbits and enter other orbits, e.g. around the Sun, to proceed somewhere,

(C) carry enough rocket fuel in the spacecraft for a return trip,

(D) re-enter and land on Earth or other planets after a trip in space,

(E) define the trajectory and calculate the timetable of a trip between moving heavenly bodies and

(F) explain scientifically how it should be done.

Only satellites can be sent - one way - into orbits around Earth

If you think that spacecrafts or special capsules with human beings aboard

(1) have been sent in high speed Earth orbits in vacuum space by rockets, then

(2) have returned by re-entry, or from the orbits,

(3) have blasted off into new, higher initial speed trajectories/orbits in new directions by other rockets,

(4) stopped and visited the Moon 1969/72 or Mars, planned or promised 2019+ but done already 2012, then

(5) have blasted off again using more rockets,

(6) to finally return to/drop down on Earth at increasing speed via other trajectories/orbits,

(7) find the location at high altitude to start a re-entry ... through the atmosphere ... and finally land on Earth ... using

(8) a parachute or (9) braking with your rocket engine (!),

you are very badly informed.

Actually you are brain washed to believe silly fairy tales!

(1) - (9) are just stupid, pseudoscientific inventions by 18 000+ NASA or similar sect members of all kind, not forgetting XPaceS gangsters or what they call themselves:

"When NASA started, it began a program of human spaceflight. The Mercury, Gemini and Apollo programs helped NASA learn about flying in space and resulted in the first human landing on the moon in 1969. Currently, NASA has astronauts living and working on the International Space Station."

It is not true! No human beings have been in space! A human being stating officially having been in space is just a paid lying actor!

All Apollo missions 1969-1972 were fake!

All 135 Shuttle missions 1981-2007 were also fake!

All crew persons of the Apollo and Shuttle Missions are/were paid actors.

All NASA/ESA robot missions outside Earth orbit were fake!

NASA/ESA & Co faked everything except simple satellites in Earth orbits!

NASA is a 100% criminal US agency to create fantasy propaganda at the request of, and under the protection/control of, a ridiculous POTUS. Meet his administrators! All stupid actors too! ESA is the same.
| | |
| --- | --- |
| One of the latest NASA hoaxes is the US$1 000 million OSIRIS-REx nonsense mission with an Earth Gravity Assist 22 September 2017 and a Deep Space Manoeuver 28 June 2018. In 100% fantasy spaceflight, a Deep-Space Manoeuver (DSM) otherwise known as a burn is the use of a spacecraft propulsion system to change the orbit of a spacecraft. There is then an encounter with an asteroid 3 December 2018. Asteroids colliding with Earth and the tax haven principality Luxembourg creating options for human space mining companies are other hoaxes! They are keeping plenty, stupid Arizona, American, Japanese and Luxemburgish clowns busy! Another recent space hoax on Earth was the 17 August 2017 Italian Virgo hoax. There are many more! Immoral, wicked and stupid, engineers and scientists have just invented fantasies like Solar Electric Propulsion, SEP! In the future you don't need chemical rocket fuel in space! SEP allows deep-space missions to carry more cargo and use smaller launch vehicles while reducing mission costs. SEP provides such high fuel economy that it reduces the amount of propellant required onboard vehicles for deep-space missions by as much as 90 percent. SEP will enable affordable human-crewed (!!!) missions beyond low Earth orbit. SEP uses electrostatic Hall thrusters with advanced magnetic shielding -- doing away with conventional chemical propellant delivered by a traditional rocket engine. Bla, bla, bla ... | |